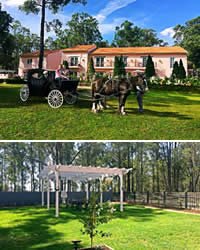 Photographs by naturallightscapes.com.au


Set on 25 acres among beautiful Pokolbin vineyards, Villa Provence is the perfect venue for your intimate wedding.

Exchange vows in our charming rose garden, and then relax and enjoy stunning views over the vines to the Brokenback Mountains.

Our expansive property is the ideal place to celebrate the occasion with family and friends, and then chill out in your own exclusive Provincial guest house. It's all yours for the cost of the accommodation. There are no extra charges.

Simply organise your own marquee and catering, or why not let us help you find the right local people to make your special day perfect?

If you have any questions please do not hesitate to contact us.